Before 2020, "digital transformation" was merely a buzzword — at best, way down in priority. Legacy networking and security had been sufficient. But the global pandemic has forced companies of all shapes and sizes to think differently about their networks and work environments. The hybrid workplace is pushing organizations to move critical workloads to the cloud. Cloud adoption is a major trend enabling organizations to a realistic and strategic path forward.
Organizations need better visibility, context, and control to ensure network performance and security, especially as this flexible new normal distributed workforce brings additional cybersecurity challenges and risks.
Power of visibility to protect
As an old adage goes, "You can't manage what you can't measure and you can't protect what you can't see." Organizations cannot prevent data from being compromised or attacked without the proper visibility. They must see how users are sharing and managing data and accessing applications across all locations, networks, and devices. Blind spots make it harder to provide consistent network performance and security, which can lead to errors, fines, data loss, and poor user experience.
Indeed, keeping a distributed workforce safe is no easy task. SaaS applications are themselves a challenge, where even the most minor configuration drifts can be exploited by bad actors. And those applications are just one small piece of the puzzle. Today, many organizations hold dozens of fragmented cybersecurity solutions to meet the ever-growing list of security needs and with the expectation of a more layered protection. However, these multi-vendor environments have the potential to widen security gaps instead of removing them.
Today, the need to simplify and secure IT environments starts to blur the lines between networking and security teams. And if simplicity is the aim, network and security solutions must also unify. As threats increase, the status quo is, simply, no longer good enough. Fragmented solutions are no longer getting the job done. Organizations need an architecture that securely streamlines network access.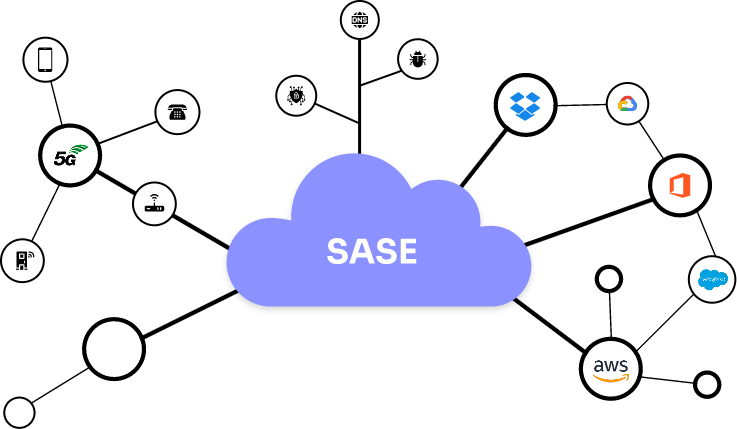 When networking and security converge
In 2019, Gartner coined the term Secure Access Service Edge (SASE) to describe a new approach to networking and security. SASE is a platform that consolidates numerous networking and security functions—traditionally delivered in siloed point solutions—in a single, integrated offering. SASE provides the ability to identify end users, devices, IoT/OT systems, and edge computing locations and provide direct and secure access to applications hosted anywhere, including data center or cloud-based services.
Sase Helps Organizations
Connect
Connect users seamlessly to the application and data they need to access – in any environment, from any location
Control
Control access and enforce the right security protection anywhere users work
Converge
Converge networking and security function to deliver secure connectivity as a service
Today's businesses are planning for a cloud-oriented organizational transformation by consolidating vendors and adopting integrated, cloud-first solutions. This consolidation is fully realized through a SASE platform. With SASE, businesses gain better control over every user and any app, over any network – without a degradation in performance or user experience.
Ninesec & SASE
Ninesec can provide solutions for the pillars that Gartner calls out—cloud-managed networking and security functions—as well as end-to-end observability from the user all the way to applications, over any network or cloud.
When implemented correctly, our SASE solutions provide the visibility needed to effectively remediate network performance and security issues quickly. This visibility can ensure that both a company's brand and their customer's data is protected, wherever data resides, including public and private cloud applications. This visibility can offer transparency across all user activity — whether from an office or from a coffee shop.
We offer solutions on a tightly integrated and open platform sold as a single offer that provides the SASE building blocks that organizations can use to solve their current visibility, protection, and performance. This, combined with the innovations in the security portfolio sets customers up for success by offering the most visibility across network, cloud, and device coverage to ensure protection for customers – anywhere.
Built to easily scale or expand as our customers' IT and networking needs change and evolve, our integrated SASE architecture offers capabilities that address our customers' most common concerns:
Visibility and observability into network performance and security incidents
Customers get complete visibility from the user to the application over any network, with insight into any performance issues, so they can resolve incidents quickly and maintain reliable connectivity and optimal application experience. Daily tasks of customers' security analysts are simplified and accelerated, made easier with a platform that aggregates data from across the Cisco Security portfolio—including third-party data and automated response actions.
Protecting data that resides in public and private cloud apps
Customers have visibility and control over sensitive data leaving their organization and get help meeting compliance requirements. They can also monitor and enforce flexible policies in real-time, with pre-built, customizable data identifiers.
Connecting, protecting, and monitoring remote and hybrid workers
Organizations can establish, provide, and extend continuous user and device trust and on a per-session basis, with user- and device-level visibility controls, to verify user identity and device health beyond the perimeter. With the ability to deploy zero-trust security measures both inside and outside the corporate network, customers can be ensured consistent enforcement to reduce the risk of data breaches and meet stringent compliance requirements.
Enabling direct, secure internet access at branch office locations
In minutes, customers can connect users at the branch to applications in the cloud—seamlessly, securely, and reliably—while protecting data from the network edge to the cloud. With simplified deployment and operation, customers can get hundreds of locations connected quickly with simplified ongoing management.
Customers count on us
Building a successful SASE roadmap requires a strategic approach with a trusted partner, who can help build a plan to meet any unique situation. We have a proven track record in the core SASE areas of networking, client connectivity, security, and observability. We've helped businesses of all sizes get started on – or travel further – in their journey towards a fully realized SASE vision.
Customer Journey to SASE
We are committed to helping our customers
Simplify network connections
Secure access to internet and SaaS apps
Reduce the number of tools to manage
Eradicate silos and increase operational excellence
Improve performance and decrease security risk
Reduce both investigation and remediation time
Contact Us